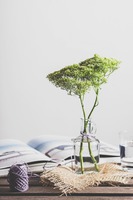 SUSTAINABLE FAMILY LIVING
C O N S C I O U S C O N V E N I E N C E
My Little Grocer is an online grocery store stocking every day essential products which have been made with love, using natural ingredients and sustainable packing and processing methods.

Where possible we source stock from the UK, only if we aren't able to make a product in here yet, do we look beyond.

Our aim is to make a conscious way of life more possible for more people, creating a clean and sustainable future.
We believe in promoting a healthy and well balanced lifestyle.
Whilst together, we are saving the world in our own little ways, why not let us save you from the hustle and bustle of the supermarkets. Have anything you may need, delivered to your door.

We operate a refill option where possible to promote the zero-waste movement and to show how wonderful a refillable life can be. Minimizing plastic waste that is contaminating our beautiful home, and creating a new and sustainable normal without compromise. During covid-19 we have had to pause this service but don't worry, it plans to return to you very soon!

We deliver our goods in plastic bags, but don't worry, they are certified biodegradable, compostable and and protect your items from our glorious British weather.

Have your ethical, every day essentials delivered to you with piece of mind.

Together, we can make a difference.

Striving to create a cleaner, healthier and more sustainable way forward.